If you following our advice on how to choose the best moving service, you will enjoy working with your residential moving company.  This article will help you do just that.  Take a few minutes to review these tips.  If you do that, you won't have any problems getting good help for your move.
When you are searching for residential movers to meet your needs, the key is research.  You will want to read reviews regarding what past customers have to say about the moving companies.  Try to determine how long the companies have been in business to determine what kinds of experience they have in terms of moving.  If you can find their website, there might be some information that describe what services they have to offer there.  It is a very good idea to do thorough research to ensure you end up working with the most experienced and reputable moving company.
Find out what type of employees work for your chosen residential moving company.  One thing that is very important is to ensure you don't allow people into your house that will break things or steal your belongings.  Ask the companies if their employees are given background tests and drug tests before they are hired.  If a certain company doesn't do this you might need to keep a close eye on them while they are working to make sure the job is being done correctly.  It is very risky to allow people you can't trust move your belongings.  Basically you are placing your house in their hands.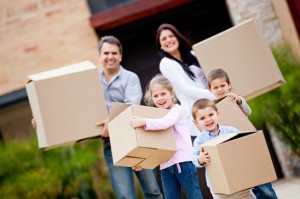 In terms of hiring your movers, see if you can get the best deal possible on your move.  However, it isn't a good idea to be really cheap and hire a company that doesn't really know what they are doing.  You need to ensure you pay them for doing a good job for you.  It isn't required that you tip the movers.  However, if they do a great job for you, giving them a small tip may encourage them to work harder and be more careful.  Whatever your decision ends up being, call several companies and get quotes so you know what the average prices in your area are.
Of course you might not have lots of time to keep a close watch on your residential movers as they are working.  However, every once in a while you should check on them.  Make sure to label where items should go.  Mark things as fragile as well so they don't get dropped.  If you happen to notice something is broken or wasn't properly moved, you need to inform them immediately about it.  You will probably be allowed to make a claim for any damages done and get a refund later.
After you have finished going over these tips on residential movers, starting preparing things for your upcoming move.  Take the necessary time and really work on them.  If you do all of this, it shouldn't be too hard for you to find a really good mover at a great price.